5 Benefits of Ghee + Tasty Ways to Use it
DISCLAIMER
This blog does not intend to provide diagnosis... Read More

This blog does not intend to provide diagnosis, treatment, or medical advice. Read more. The content provided on this blog is for informational purposes only. Please consult with a physician or other healthcare professional regarding any medical or health-related diagnosis or treatment options. Information on this blog should not be considered as a substitute for advice from a healthcare professional. The claims made about specific products throughout this blog are not approved to diagnose, treat, cure, or prevent disease.
In this article: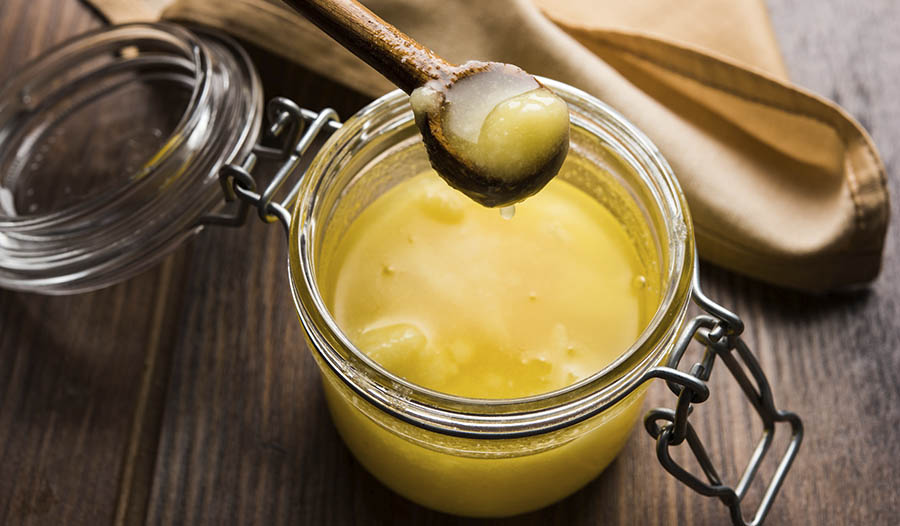 Ghee, a type of fat made by clarifying butter, has been used for thousands of years. It's an ancient health food that's making a comeback! It was used regularly (and still is) in Indian cuisine and spoils much slower than regular butter. The process of making ghee, simmering butter and skimming the milk solids out, removes water and any materials that are prone to spoiling. You can easily keep a jar of ghee in your pantry for months. Ghee has a rich, nutty and buttery flavor that tastes great. Let's learn more about ghee and its many benefits!
High Smoke Point
The smoke point is the temperature at which oil burns and produces smoke. Cooking fat above its smoke point can create a fire in your kitchen, and also causes the food you're cooking to produce harmful free radicals from the oxidizing fat. Ghee is a wonderful choice for cooking because it has a very high smoke point -- a whopping 485 degrees Fahrenheit, which is much higher than the smoke point of butter at 350 degrees Fahrenheit. Feel free to use ghee for sautéing, roasting and baking without risk of burning.
Shelf Stable
Ghee has been clarified (heated and purified), which means the milk solids have been removed. This gives it a distinct flavor and eliminates the need to refrigerate it. You can store it safely in a cool, dry place like your kitchen cabinets or the pantry. It's solid at room temperature but has the consistency of peanut butter -- which means it takes less time to melt during cooking!
Great Source of Vitamin A
One tablespoon of ghee has 108 micrograms of vitamin A, which provides about 15% of our recommended daily intake. Since vitamin A is a fat-soluble vitamin, it is better absorbed in the body when accompanied with fat.
It's Lactose-free
For those with lactose intolerance, ghee can be a safe choice since it's free from lactose, the sugar found in milk. Since the milk sugars have been removed through skimming and straining, those who have problems digesting lactose generally don't have an issue with ghee.
Great Buttery Taste
Ghee tastes very strongly of butter, since it's been clarified and the flavor has been concentrated. You can use less ghee than you would butter and get a deeper, richer and nuttier butter flavor.
Simple Pairings—Try Ghee Today!
Button mushrooms + ghee + minced garlic + fresh thyme + parsley

. Sautee the first three ingredients in a large skillet until the mushrooms are cooked through. Toss with herbs to finish!

Air popped popcorn + melted white truffle ghee + salt

. A perfect salty and savory snack packed with fiber, protein and healthy fats!
Lemon Ghee Shrimp with Pearled Couscous
Ingredients:
1 lb. large raw shrimp, peeled and deveined

1 tsp.

paprika

3 tbsp.

ghee

3 cloves garlic, minced

1/4 cup heavy cream

1/4 cup freshly grated Parmesan

juice from 1 lemon

1/4 tsp. dried

thyme

2 cups baby spinach, stems removed and chopped

2 cups

couscous

3 cups

chicken broth
Instructions:
Season shrimp with paprika, salt and pepper to taste. Set aside.

Melt the ghee in a large skillet over medium heat. Add shrimp and cook until pink and curled, about 4-6 minutes. Add garlic and cook until fragrant, about 1-2 minutes. Stir in the heavy cream, parmesan, lemon juice and thyme.

Bring to a simmer and add spinach. Simmer until spinach has wilted and sauce thickened, about 3-5 minutes.

Meanwhile, bring the chicken broth to boil in a saucepan. Add the couscous and reduce heat to a simmer and cook, covered, until water is absorbed, about 10 minutes. Remove from heat and let stand, covered, for 2-3 minutes. Fluff gently with a fork.

Divide the couscous and shrimp into four bowls and serve with a sprinkle of Parmesan.
Serves 4