Healthy Kitchen Detox for Fall
DISCLAIMER
This blog does not intend to provide diagnosis... Read More

This blog does not intend to provide diagnosis, treatment, or medical advice. Read more. The content provided on this blog is for informational purposes only. Please consult with a physician or other healthcare professional regarding any medical or health-related diagnosis or treatment options. Information on this blog should not be considered as a substitute for advice from a healthcare professional. The claims made about specific products throughout this blog are not approved to diagnose, treat, cure, or prevent disease.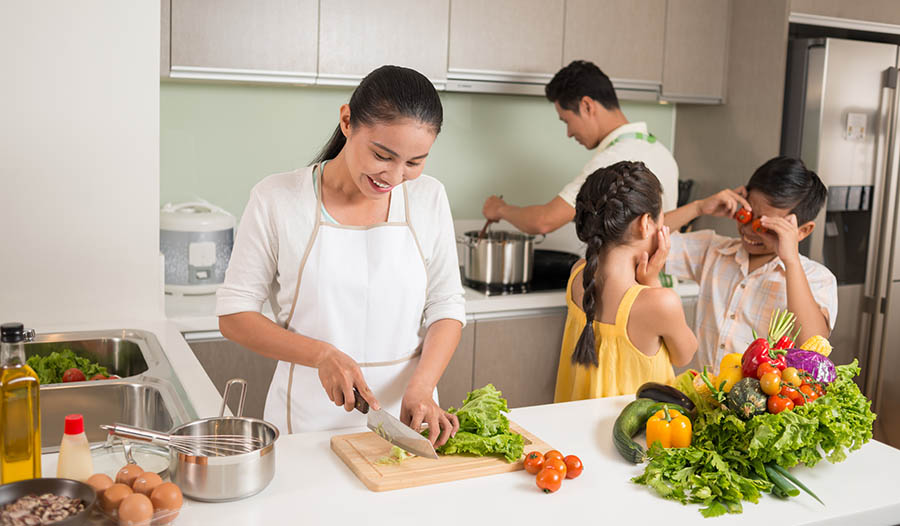 Every time the seasons change there is one thing I just love to do: kitchen detox.
Just as we spring clean our homes when the weather gets warm, or when we do quarterly cleanses to jumpstart our metabolism as seasonal produce changes, our kitchen needs some extra love and care as well. Think of it as a seasonal "reset" for one of the most important rooms of your home.
Fall is a season that inspires change. The school season begins and we pack away summer clothes to bring out new cold weather staples. Fall brings a feeling of new beginnings and what better way to support this feeling than to give our kitchen a good ol' cleanout.
When we purge our kitchen of junk food and clutter, we are creating a zone that inspires healthy eating habits and less temptation. The worst thing ever is when you are starting a new cleanse or diet and you have chips and cookies lying around staring you down, begging to be eaten. So feast your eyes on this quick and simple guide to detoxing your kitchen for the fall season.
Have two big trash bags on hand: one to donate food that will not support your healthy lifestyle, and one to fill up with expired food to toss.
The Rules of Kitchen Detox
Try to eliminate items that are processed and replace them with whole and simple foods. Start by looking at the ingredients on your packaged items. If there are quite a few ingredients that you can't even pronounce or have no idea what they are, do a quick Google search. If you find that they are sugars or fillers, get rid of them!
It's also useful to know that the ingredients listed first are what's primarily in the food. So, if you have peanut butter in your cupboard but peanuts are listed on the second or third line, then there's a good chance that your jar is filled with a bunch o' junk.
Some other obvious guidelines to follow when doing general kitchen detoxing is to go through the packaged items in your pantry, fridge and freezer and toss anything that is old or expired. Also, items that you haven't used in over six months (including kitchen gadgets like salad spinners and random utensils) should be tossed or given away to make room for items that have more use in your life.
Detox Guidelines by Area
First Up: Pantry Makeover
Start by looking through your cupboards and pantry spaces and eliminating items that have confusing labels. If you are truly ready to experience a health kick, here are a list of items to purge, and what you can replace them with instead.
Get rid of items with trans fat, saturated fat, and hydrogenated oils. I could go on and on about fats, but consuming the types of fats listed above cause more harm to your health than good. Another thing to note is that not all saturated fat is created equal. Saturated fat that is found in processed and fatty foods should be avoided, yet many health gurus stand by the research that supports saturated fat benefits from sources like coconut oil. So toss out margarine, shortening and canola oil. Use oils like olive oil, coconut and avocado oil instead.
Another ingredient to purge? Sugar. Not only do you want to nix that actual bag of sugar in your cupboard, you should be mindful of sugars in processed foods as well such as sauces and dressings. If you want to add sweetness to your treats and sweets, opt for natural sweeteners like coconut syrup, coconut sugar and organic raw honey.
Pantry Swaps:
Swap out dry goods like refined white flour, bread, pasta and cereal for items like the following:
You can find all of these and additional healthy pantry options here.
Next Up: Fridge and Freezer Detox
After you've gone through and have thrown out your expired food, fill up on fresh, organic and seasonal produce. I also make sure that any sprouted grain bread or grains are stored in the fridge for extra freshness as well. Let's go through some fridge essentials that will make your kitchen that much healthier:
Protein:
If you eat animal protein, always choose items that are organic and ethically sourced such as grass-fed beef. If you are plant-based, you can stock up on items such as tempeh or tofu.
Dairy:
I personally cut out milk and cheese as I have a dairy sensitivity and it tends to really mess up my digestion as well as causing excess mucus. For dairy alternatives I love filling up my fridges with almond milk, coconut milk, and dairy-free cheeses and spreads.
Healthier condiment essentials:
When it comes to condiments, they are often filled with ingredients that provide no nutritional value or fillers and additives. There are many different brands that are healthier alternatives to mustard, mayo and ketchup that are packed with real food and wholesome ingredients.
Last Stop: Detox Your Cleaning Solutions
And to top it all off, swap out your cleaning solutions for eco-friendly, natural and safe alternatives. If you love to clean like I do, then finding non-toxic, non-chemical products will be better for you and may protect your health in the long run as well. A cleaning solution as simple at vinegar, water and your favorite essential oil is great for countertops and wood flooring. You can find healthier alternatives for everyday products like all-purpose cleaner, dish soap and more here.
When performing a kitchen detox, a simple question to keep in mind when shopping for new items is "How will this nourish me?" This way, if you come upon a box of cookies or chips and you can't find a single nutritional benefit, then you will be more likely to find healthier alternatives that taste great while also keeping your wellness efforts intact!