How This Esthetician Takes Care of Her Skin as Self-Care
DISCLAIMER
This blog has not been approved by your local health department and is not intended to provide diagnosis, treatment, or medical advice. Read More

This blog has not been approved by your local health department and is not intended to provide diagnosis, treatment, or medical advice. The content provided on this blog is for informational purposes only. Please consult with a physician or other healthcare professional regarding any medical or health-related diagnosis or treatment options. Information on this blog should not be considered as a substitute for advice from a healthcare professional. The claims made about specific products throughout this blog are not approved to diagnose, treat, cure, or prevent disease.
In this article: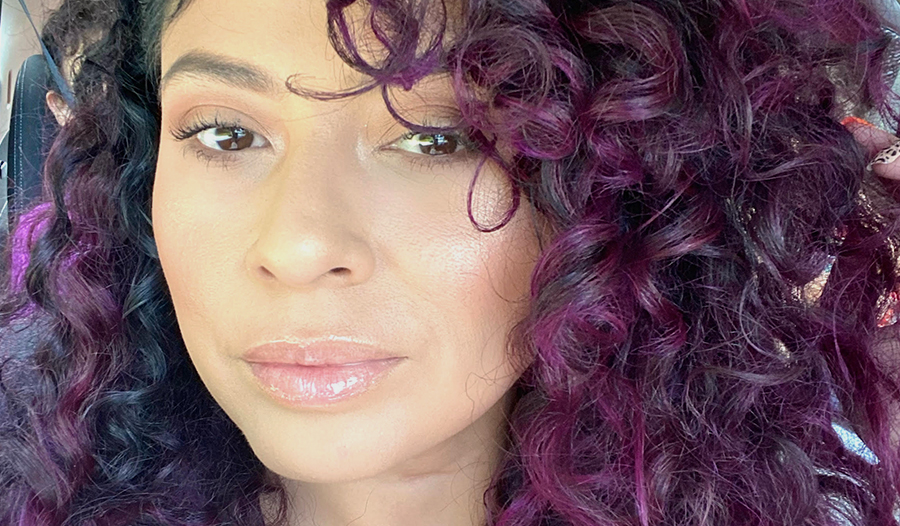 Vanessa Lopez knows what it's like to be busy. This licensed esthetician, professional makeup artist, and mom of two juggles work, parenting, a popular Instagram account (@the_glowupbeautybar), and the regular responsibilities of daily life while looking fabulous, and helping her clients look fabulous, too.
For Vanessa, skincare is self-care. We talked to her about her personal beauty philosophy, her daily routines, and the best advice she gives her clients. Here's what she has to say.
What's Your Skincare Philosophy?
Well, as an esthetician, I think it is very important for you to have a skincare routine day and night. I like to tell my clients to start off basic because I don't want to overwhelm people. So, if I were to pick three things, I always say at least have a cleanser, exfoliant, and moisturizer, and then I would go in with adding other things gradually. Because as much as I do think it is important to have a skincare routine, I'm also realistic. I am a mom, and I know life can get crazy. There are days that I don't want to wash my makeup off at night because I'm tired and the kids need things, and I force myself to do it. I like to preach, but I also like to practice what I preach.
So, What's Your Daily Skincare Routine?
In the A.M., I always make sure to double cleanse. Then I go in with my toner, then I use a vitamin C serum and an eye cream, and then I go in with my daily moisturizer. Then I actually use a SPF spray with zinc. I use it again after I do my makeup as a setting spray. That's something that's very important to me: SPF 24/7 seven.
At night, I do a triple cleanse—I go in first with a makeup-removing balm that contains AHAs and hyaluronic acid, which helps to smooth out my skin. And then I go in with my cleanser and I double cleanse because I do wear makeup on a daily basis, and I want to make sure that I remove everything. And then I go in with, again, my toner, eye cream, and an anti-aging serum. And then I do my night cream. I also exfoliate two or three times each week, and I do that at night.
What's Your Daily Makeup Routine?
I have oily-combination skin, and I get oily in my T-zone area, so I use a primer for that area. And then for an everyday look, I go in with foundation, and then a setting powder. I usually do a light eye shadow, and I'll fill in my brows and apply some mascara and blush. If I'm going out, then I'll contour, define my eyebrows more, maybe put on some false eyelashes. When it comes to makeup, I try to keep it simple.
For foundation, I'm really loyal to Estee Lauder Double Wear. I feel like it gives me more of that matte finish. It's the only foundation that I've found that keeps my oil under control all day long. L'Oreal Voluminous Mascara is another go-to. I like to mix it with Wet 'n' Wild Max Volume—for some reason that brush makes your eyelashes extend further. For setting powder, it's Laura Mercier Sheer Perfecting Powder, for sure.
What's Your Self-Care Philosophy?
I do think it's very important as a mom and as a woman just to take some time to do something nice for yourself. For me, self-care is taking some extra time when I'm doing my skincare routine to do a mask, or an eye treatment, or a lip treatment. Or on days when I wash my hair, I'll do extra things to take care of myself. I'll make sure I don't have the kids around, and just take my time washing my hair, which is a process because I have a lot of it. And I don't recommend this to clients, but sometimes I do a derma plane treatment on myself.
I always stress the importance of self-care to my clients. I tell them to hide out or have their hubbies take the kids so they can take those extra minutes to themselves. It's so important.
That's one of the reasons I love being an esthetician. I get to give women that time to treat themselves for an hour or two, and when they leave, they feel amazing. Every woman needs a skincare routine, but I feel like seeing a licensed professional for your skin is also a great way to take care of, not just your skin, but to squeeze in some self-care, too.